Suggest a Feature
Last updated
Got an idea? Let us know!
---
We would love to hear from you, our customers, on what's important to you so we can build features that will address your corporate estate needs and provide a delightful user experience. As ideas become better defined through your comments and votes, we will evaluate your ideas on a regular basis, and you can see the progress of your ideas.
When an idea is submitted, the Product Management team will be notified and then provide comments on the idea as it progresses. You will receive an email whenever we add a comment or we change the status of an idea that you submit or have voted on.
Your Vote Matters
---
Votes are important. Before you create a new idea, please search to see if someone has already raised the idea, and then you can add your vote.
The Product Management team takes many factors into account in order to decide what to build, and one significant factor is votes from UserVoice ideas. The more votes an idea gets, the more the Product Management team knows the idea appeals to a wide group of customers.
Access the Request a Feature (UserVoice app)
---
You can suggest a feature via the Serraview Product.
Click the Help icon. The sub-menu displays.
Click Product Support.

'
The Product Support panel displays.
Click the Suggest a Feature and this will automatically sign you into the

UserVoice app.
If you want to submit ideas on the other products, then:
3. Click the Share Vote Discuss

button.
This displays our products: Archibus, Engage, Insights, Serraview, Smart Environments, and SpaceIQ.
4. Click a product to submit an idea.
Search
---
Search to see if your idea currently exists.
From the left-hand menu, either select All ideas or select a category.
2. In the Search field, search for your idea to check if it already exists.
And filter
---
Each category contains the following filters:
Hot Ideas - this lists the ideas that have lots of activity in a short period of time - both votes and comments.
Top - these are the ideas with the most votes.
New - this lists the new ideas.
Status - select the Status drop-down to filter by: New Idea; Under Review; Scheduled; In Development; Completed.
If your idea exists, you can vote for it
---
Click the Vote button to vote for the idea and it will be voted up.

If you want to remove your vote then click the Voted! button.

If your idea exists, you can add a comment
---
Click the idea to review and then, if you want to, include a comment.
Remember that all Serraview users can see these comments!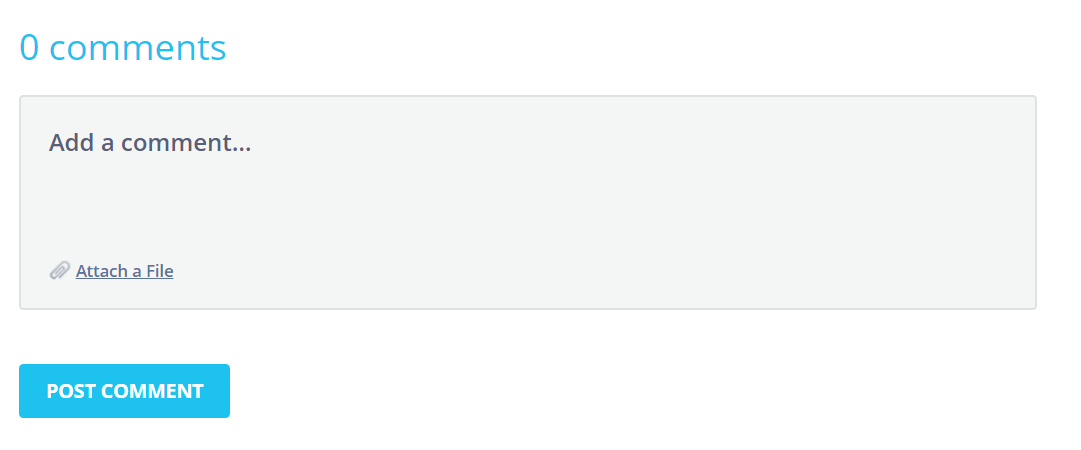 Create Idea
---
If you have an idea that's not listed yet, you can submit your idea.
From the left-hand menu, select a category to tell us which part of the platform your feedback is for.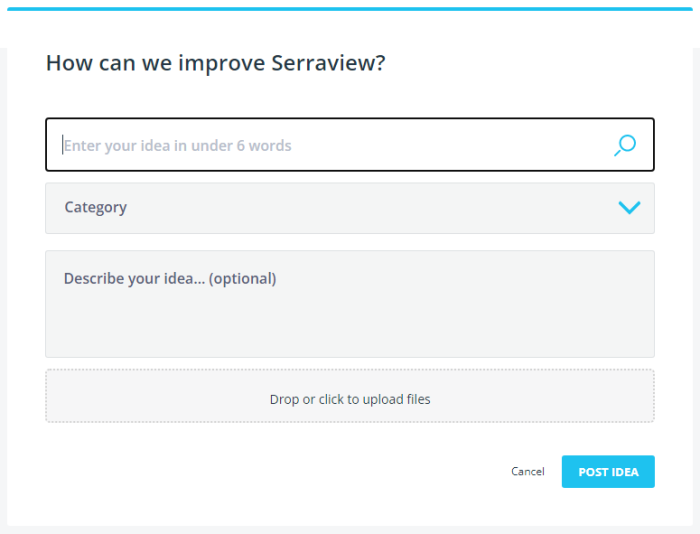 2. In the Description field, describe your idea and if needed you can attach a screenshot or relevant file.
3. Click Post Idea button.
Tips on Writing Up an Idea
Ideas can take on all shapes and forms but to clearly explain what you are thinking, the idea needs to be written as a user story. When you write a user story it will focus on the business problem or pain point instead of the feature.
Why do this?
When the user story is read by the Product Owner it will assist them in understanding the who, what, and why. Also, the Product Owner can identify a solution that will benefit the Serraview Community as a whole and this they can prioritize the development work.
How do I tell a good user story?
In the past it was long requirements that bored everyone to sleep, now we use Agile development and the written requirements are for the user and written by the user.
Format:
As a <role>, I want <some goal> so that <some reason>.
Example:
As a space planner, I want to drag a person to a new location so that I can relocate them.
Statuses
---
The following statuses are used:
| Status | Description |
| --- | --- |
| | New ideas suggested by customers, partners, or internal stakeholders. |
| | Under review is when we are gathering feedback from internal and external stakeholders. |
| | Idea is accepted and scheduled. |
| | Idea is actively in development. |
| | Beta evaluation/testing. |
| | Done |
| | Idea has been reviewed and not accepted at this time. |
| | Idea has been reviewed and declined. |
Receive Email Notifications
---
If you want to receive notifications about status updates or new comments you can update your settings.
In the header, click the Settings link. The Setting page displays.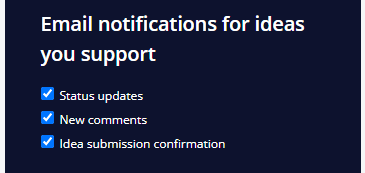 2. Check the Status updates check box to receive an email when the status changes on an idea.
3. Check the New comments check box to receive an email when a comment is added to an idea.
4. Check the Idea submission confirmation check box to receive an email confirmation.
The setting are automatically saved.
To return to the Home page click the SHARE. VOTE. DISCUSS link.