Retention Statuses
Last updated
Level: System Administrator
Overview
---
A retention status allows a fixed desk to be marked to be retained within a team's allocation, without having to place an individual's name against the desk. They cannot be added to flexible teams or unallocated workpoints.
Retention statuses are mainly used by Workplace Administrators using Workplace, and they can be used within the Block & Stack (VBS), refer to:
When you configure the list of retention statuses you will need to consider the following:
settings and the effect on the VBS Information Panel's statistics.
names of the retention status and descriptions. These need to be clear and concise as the Workplace Administrators will need to understand the statuses meaning.
Settings
The following settings need to be set up for each retention status:
Counts as Occupied check box - whether it counts toward occupancy
Enabled check box - if it is enabled (active in the live site)
Requires Comments check box- if comments are mandatory in Workplace.
As retention statuses are mainly used in Workplace, comments are not mandatory when you add a retention status via the VBS even if they are set to be mandatory in the configuration.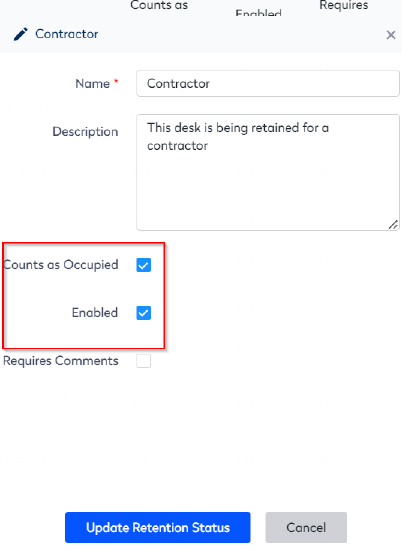 Retention Status and Comment Examples
It is important to consider your list of retention statuses as they must be clear and concise for the Workplace Administrators to understand. When you apply a consistent approach to comments this helps identify and categorize exceptions or special workpoints.
The table below provides some suggestions that Workplace Administrators can use when they add comments.
Retention Status Options

Description

Example Comment

Extended Leave

Parental Leave

Long Service Leave

Secondment

"PAR" + date of return + person's name

"LSL" + date of return + person's name

"SEC" + date of return + person's name

New Starter

Reserved for New Starter

"NEW" + date when New Starter beginning

Project

Reserved for Future Project

"PRO" + Project Name + expected Project start date

Contractor

Contractor

"CON" + Company Name + Person's name

No Longer Required

No Longer Required

"AVA" + date desk will become available

Hot Desk

Hot Desk

"HD" + date desk will become available

Other

Where desk belongs to another team

"CC" + cost center number

Other

Other Feedback

Type comments as appropriate
Block & Stack (VBS) Information Panel Statistics
The retention statuses settings can influence occupancy statistics. If you want to view the Retention Statistics, these can be found in the View Block and Stack's Information Panel Statistics, under the Workpoint Breakdown and the statistics are called Retained (Occupied) and Retained (Unoccupied).
Manage
---
Navigate to Admin Settings > System Config > General > Retention Statuses.
You can manage the default retention statuses:
Learn More