Engage with SVLive2
Last updated
Engage now supports SVLive2. This software as a sensor solution provides additional rich utilization data which depending on the situation allows Engage to display:
Person Location - If available this shows the desk a user's device is docked at or its general Wi-Fi location.
Person presence - This shows if someone is using their device or if they have left to grab a quick coffee.
Desk availability - This shows whether the desk is being used or not.
This article contains:
Overview

Desk Availability
Employee SVLive Locations
Presence Information

Prepare and Deploy Engage with SVLive2

Deploy
Validation
Updated Engage Configurations
Frequently Asked Questions
Overview
---
Engage combines utilization data from space allocation, reservation, and SVLive2 to provide a comprehensive overview of how space is being used in the workplace.
The following describes how SVLive2 data within Engage is represented to employees.
Desk Availability
When a device running the Serraview Presence Service (SPS) docks runs on a known network port, Engage will show the desk as occupied. This is represented on the floorplan with a navy dot and on the desk card with the "occupied" label. Additionally, if the user has not selected to opt-out of Engage, the name of the user will be shown when the desk is selected. Clicking on the name will:
Load the person's most recent SVLive location.
Display their information card.
Employee SVLive Locations
Engage using a rule-based system to decide which location to display for an employee. We consider fixed allocations, reservations, and SVLive data. These rules are continually being tweaked based on our internal analytics. However, for all extensive purposes, we preference user locations in the following order:
SVLive Wired
SVLive Wi-Fi
Reservations
Allocations
When selecting a person in Engage, based on search results, person card, or deep linking, Engage will always use the above plus timings to display a user's most likely location.
Live
When selecting a user with a wired SVLive location, Engage will load the corresponding location on the floorplan and show the "Live" label on the employee card. This label lets Engage users to know that the user's device is located at the specified desk.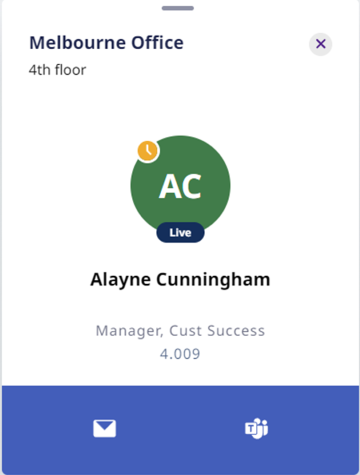 Wi-Fi
When a wired location is not available but a Wi-Fi one is, Engage will display a circle encompassing the corresponding location on the floorplan and show the "Wi-Fi" label on the employee card.
It's important to note that Wi-Fi triangulation accuracy can vary due to numerous criteria. Some examples are:
The number of Wi-Fi access points on the floor.
Workplace obstacles, furniture, equipment, people, etc.
Building materials, concrete, plaster, glass, etc.
Presence Information
---
When selecting a person who is on a device with the Serraview Presence Service (SPS), Engage will display an employee's presence information when it is available.
Presence represents is a user is using their device (green tick) or they are away (yellow clock). On the left, the user is actively using their device, whereas on the right they are not.
Prepare and Deploy Engage with SVLive2
---
Deploy
The configuration of Engage and SVLive2 can be enabled at an agreed time with your Customer Success Manager. Our recommendations for an activation time are:
During business hours and we recommended in the afternoon.
During a normally busy day.
These times are used to help us live troubleshoot issues and we do not complete deployments outside of business hours.
Validation
When the integration of SVL2+Engage is deployed, the following validation activities are undertaken in each site where Engage is deployed:
Do desks show as occupied with the correct occupant?
Do users show up on Wi-Fi when they are on a wireless connection?
Updated Engage Configurations
Your current configurations for Engage will be unchanged, the only change will be the integration of Desk Availability, Person Location, and Presence Information as outlined above.
We recommend that you audit the following:
Do all your buildings and floors display in Engage, even if they do not have reservable spaces or desks?
Do you want your people to search for people in other floors or buildings?
Do you want to allow your employees to opt-out of displaying their name and location in Engage?
Are all spaces and desks set up with the correct reservation rules?
Frequently Asked Questions
Can employees opt out of their location or presence information being displayed?
Yes, System Administrators can enable staff to choose to opt-out of displaying their name and location. However, Engage will still display if a desk is occupied or vacant.
Will Engage show location and availability based on mobile phone devices?
No, the data for location, availability, and presence comes from corporate devices with the Serraview SVLive Presence Service agent installed. Personal devices and mobile phones do not provide data or display in Engage.
Why is my Wi-Fi location not accurate?
Due to a number of technical factors, there may be inaccuracies with Wi-Fi location which may show a person in a different area or location.
Why does Engage not immediately update?
Due to a number of technical factors, it can take up to 15 minutes to reflect changes in a person's location, presence status, and desk availability.
Desks that are not reservable are showing as occupied?
This is the real-time location information being displayed. If a desk is not enabled for reserving but is wired-up and a person has docked their device to that desk, the desk will display as occupied in Engage, regardless of having made a reservation or the desk being reservable.
Why can't the user reserve any desk?
Why doesn't the person appear in the search?
Why doesn't the person appear in Engage?
There are times when SVLive2 may stop sending information to Engage. For instance, if a person's device experiences a hard crash and is not turned back on, Engage will not know if the user is still in the office or has left. Due to this, Engage will not display any SVLive data pertaining to a user or a desk if the event occurred more than one hour prior.