Version 2.58 - March 2018 Release Notes
Last updated
Notable Changes and New Features
Introducing Serraview's New Occupancy Count API
Serraview's Occupancy Count API makes it easier for Corporate Real Estate (CRE) organizations to gain a better understanding of how many people are in a space at a given time. Our API makes it easier for our partners and others to connect their anonymous, head-counting sources with our system so CRE organizations can report on the data. Our clients will be able to build reports to determine: what time of day most meetings are held, or which conference rooms are occupied to capacity and which are underutilized. Armed with this information, CRE organizations can assess the current building design and determine whether the space should be re-purposed to better address employees' needs. Clients will also be able to report on how residents are using the space, including visitors like consultants and contractors.
Simplified VBS Auto Allocate and De-allocate
Serraview's latest enhancement simplifies the VBS allocate and de-allocate process. With a simple configuration modification, you can enable Serraview to automatically allocate and de-allocate workspaces when you assign occupants. You can also set the level in your cost center structure that will be applied when using this auto allocation function.
Auto allocate and de-allocate are new features. If you prefer, you can continue to perform the more manual allocation and de-allocation processes which are the default.
This change just provides you with more choices on how to best manage this process for your business.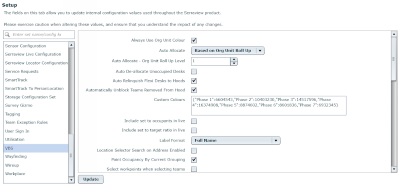 Automated Snapshots
Serraview's reporting snapshots function lets you capture historical data so you can compare your data over time. Our latest functionality allows you to set up monthly snapshots of your data, reducing the risk of lost data due to human error. If you are interested in setting up automatic snapshots, contact our Support team.

Minor Enhancements and Fixes
Space Optimization
Enhancement – In Buildings & Floors, we removed the character count restriction for the Short Name field, so you can use your preferred naming conventions.
Enhancement - In the Space Mapping module, we added the ability to see the Charge Rule as a viewing option in the Viewing perspective as well as in the Mapping perspective.
Enhancement - A "Utilization Provider" drop down option was added to the Building Form. This is part of work that will allow SVLive clients to be able to use SVLive data for Peak Utilization in the VBS in the near future. Currently VBS only supports badge (speedgate) data.
Fix - In the VBS, the floor plan will remain when scrolling up or down.
Fix - Statistics will recalculate regardless of how small the change is to the floor plan scale.
Fix - In Space Mapping, the Draw Polygon tool mapping tool has been fixed to draw points correctly.

Moves
Fix - When you create a new service request using the New Service Request Form, the default cost will automatically be applied.

Dashboards & Reporting
Enhancement – In Reporting Dashboards, you can now click on the hyperlinks that are created for reports using Report Builder. When you click the URLs, a new page will open.
Enhancement - We eliminated the overlap that occasionally occurred when there are primary and secondary labels on a floor plan.

Smart Environments
Enhancement – In the Serraview Utilization API, we improved the user experience that shows an image of the employee location on a floor plan, by making the employee location marker more visible with a more prominent color and graphical representation.
Architecture
Enhancement – We continually test and make improvements to our systems to ensure the safety and integrity of your data in Serraview.
Fix – We enhanced the floorplan importer so that it can more accurately map work spaces into our system. Additionally, improvements have been made to the accuracy of calculations for non-traditionally shaped spaces.