Exchange Sync
Last updated
Condeco Exchange Sync for Microsoft 365 allows you to link and synchronize room calendars in Exchange with meeting spaces in Condeco.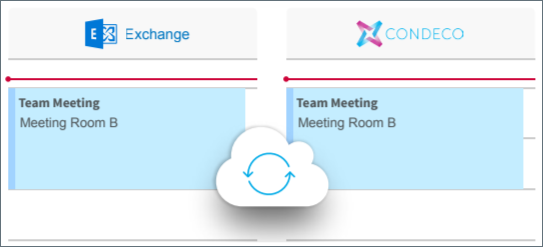 Exchange Sync monitors and automatically synchronizes any bookings made, edited, or deleted, enabling users to make meeting space bookings using any Exchange-enabled calendar such as Outlook, Office for Mac, or Mobile Outlook Web App. Exchange Sync allows Condeco to subscribe to Exchange room calendars, so invitations to individual meeting spaces can be tracked via Outlook.
Synchronization of bookings between Exchange room calendars and Condeco is only supported with Microsoft 365 using the Microsoft 365 API.
Exchange Sync VM can process up to 4000 bookings per hour and Exchange Sync PaaS can process up to 1000 bookings per hour.
Language support for Condeco products and features