Book a personal space for a colleague using the mobile app
Last updated
---
How to book a personal space for a colleague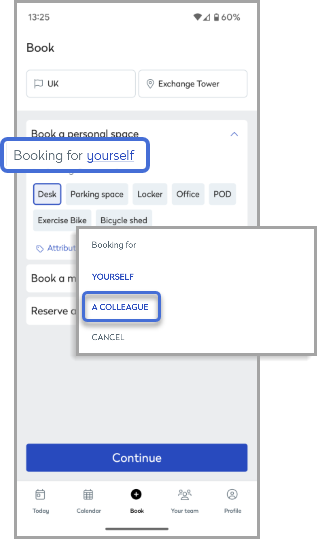 Book a personal space for a colleague
To make a booking for a colleague from the Condeco mobile app, tap Book at the bottom of the screen.
The 'book a personal space' section is initially set to booking for yourself. Tap Yourself to display the options and select booking for A colleague.
Enter your colleague's name and tap to select from the search results (or select from the Recent searches list).
The 'book a personal space' section now displays the name of your colleague.

Select a workspace type and attributes if required.
Tap Continue to display the calendar.
Tap the date(s) you wish to book (tap again to deselect). If your organization has configured monthly allowances, your colleague's remaining allowance is displayed at the top of the screen. Tap Search.
Search results are displayed on a floor plan. Tap a personal space from the search results on either the floor plan or list then tap Book now.

Book a personal space for a colleague using the mobile app