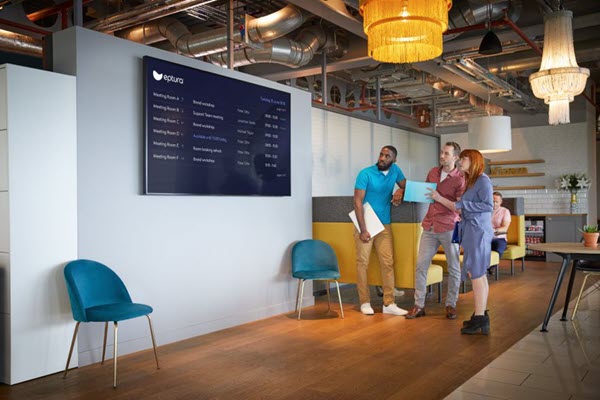 About the Condeco Wayfinder
The Condeco Wayfinder helps people navigate their way to meeting spaces located on a floor and is usually displayed on a large screen in a centralized location such as a reception area or lift lobby.
Multiple instances of the Wayfinder can be created. Each Wayfinder is configured for a specific floor at a location and displays either a list of meeting spaces and their availability or a list of bookings and the checked-in status. Arrows on the screen direct the employee or visitor to the space booked for the meeting they are attending or to spaces immediately available for ad-hoc meetings.
The Condeco Wayfinder runs from a web browser. A small form factor PC with internet access can be used when connected to a TV screen or a large monitor.
Prerequisites
To set up the Condeco Wayfinder you will need the following:
Your Wayfinder URL. A unique URL is provided with your Condeco Wayfinder license. Contact Eptura for more information.
A Condeco forms account with Global Admin permissions applied. SSO is not supported for the Wayfinder admin account.
Small form factor PC running the OS of your choice
Chromium based web browser (Google Chrome or Microsoft Edge preferred).
Large monitor or TV screen.
Display your logo and background
Contact Eptura Support to find out how to display your own logo and background on the screen.
Supported dimensions: Logo 230x55px | background 1920x1080px.