Map Exchange rooms to Condeco
Last updated
When Condeco has completed the onboarding process, sign in to Condeco as a Global Admin and map your Exchange rooms to Condeco.
If you have a large number of Exchange rooms to map, Condeco can do this for you. Contact your Condeco representative for more information.
Sign in to Condeco as a Global Administrator.
Navigate to Application Setup > Exchange room mapping.
By default, Condeco shows only Unmapped Rooms. Toggle the list to view All Rooms or Mapped Rooms as required.
There are 3 default columns in the list view:
Exchange Room
Description
Organisational Unit.
Customize the list view by clicking the cog at the top-right.
Select either single or multiple Exchange room mailboxes. Click Map to Condeco Room or Map Selected as appropriate to the selection.
In the pop-up window, select a Country, Location, and Group, then select the related Condeco meeting space from the list.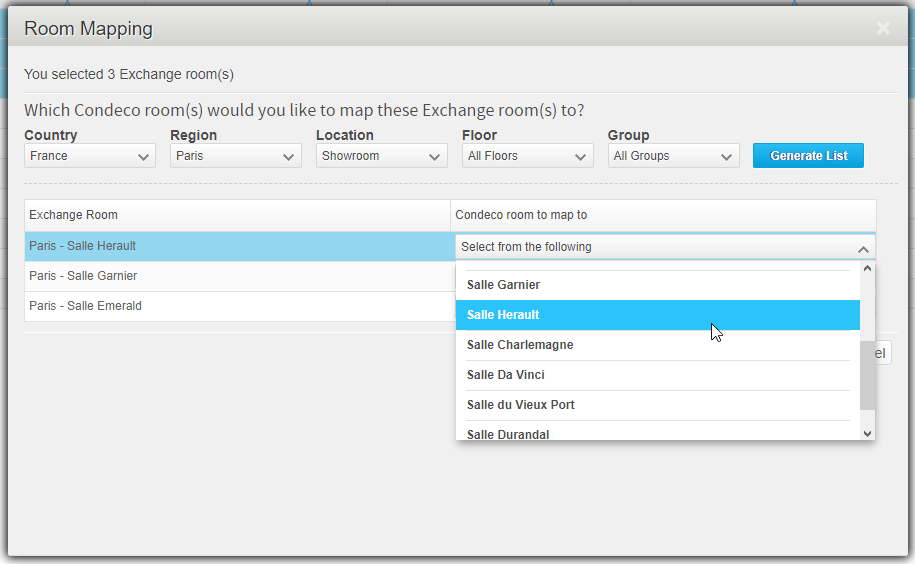 Click Map room. This returns you to the list with the meeting space(s) shown as mapped.
Existing bookings: Bookings made before the Exchange room was mapped to the Condeco meeting space are not synced.
Deleting Exchange rooms: It is important to unmap Exchange rooms from the Condeco resource before deleting the room from Exchange.
---