Analyze AutoCAD Issues More Efficiently
Last updated
You can now access and correct issues with AutoCAD drawings more efficiently using an updated version of the Softspace plugin. With this new version, you can now "zoom to" additional issues when analyzing rooms using the Room Analyzing Summary window.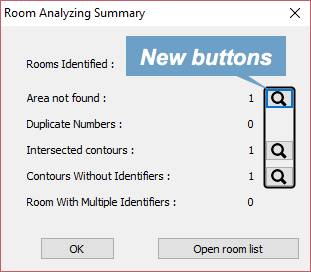 To go directly to an identified issue, simply click the
(Zoom To) button. The list of issues displays, allowing you to work through problem areas with fewer clicks.
You can download the most recent version of the Softspace for AutoCAD plugin here. If you have any questions, please call 713-526-1029, or send an email to support@iofficecorp.com.
Note: If you are using a previous version of the Softspace for AutoCAD plugin, you should uninstall that version prior to installing the new version.
Related Topics