Advanced Move Approvals Engine
Last updated
The Move Module now has an advanced approval workflow. iOFFICE Administrators are now able to create conditions that will trigger approval workflows. This enables Move Coordinators or Space Planners to request and receive the proper approvals for moves that meet certain criteria, giving enterprise-level companies greater control over how move requests are routed within their organization.
Organizations may determine that certain move projects require approval from managers, process owners, or organizational representatives before execution due to constraints such as size or location. This new approval engine automates the workflow to request and receive approval from key stakeholders and provides more information and control to Move Administrators in a new admin page.
Definitions
Template – form used to define the approval routing
Approver – individual designated to approve a task before it can be executed
Step – a node or point in the approval workflow
Enable Advanced Move Approvals
A global admin will need to enable Advanced Move Approvals for each desired Move Center in Admin >Move > Preferences and check Activate Advanced Move Approvals. If the previous "Enable Request Approval" is already toggled on, note that both engines can be active simultaneously. If a move request meets any of the new move template thresholds (detailed below), it will trigger the new Advanced Move Approval workflow and supersede the previous "Request Approval" routing.
Move Approvals Page
A new Move Approval page is now available in Admin > Move. Here, admins will be able to configure move templates for their respective move centers, and admins will be able to see pending or previous requests. This high-level view keeps admins informed about the status of each move request.
Site Admins or Admins with access to multiple Move centers will be able to change move centers and view templates or pending approvals for each center. Change the center you are viewing using the dropdown in the top right.
Move Templates Tab
Each move template has key components to create an advanced approval engine. The Template Name and Template Color are used to help differentiate templates that may have similar triggers.
Approval triggers define the parameters that initiate an approval routing. Two options are available at this time:
Location – trigger an approval workflow if the majority of move items in a request are originating from a specific location. You can specify the origin building in the template.
Size – a customer determined threshold based on the number of move items on a given move ticket. For example, any move ticket with more than 10 move items will trigger the approval.

Note: Only user moves are counted - asset moves, new hires and terminations are ignored for this trigger
Approvers
The approver is the role or individual designated to approve a move ticket. You can select several options to designate approvers for each move template.
Live search for any user in the Directory
Any Admins
Any Operators
Any Admin/Operator
For each Template, you can specify if 'all', 'any', or the 'majority' of the designated approvers are needed to finalize the approval routing. This enables greater control to route approvals through your unique organization and ensure the key stakeholders are involved before moves take place.
Approval Notifications
Approvers will receive email notifications so they can quickly review the move details and Approve or Deny directly from their inbox. This greatly benefits approvers who may not use iOFFICE daily but want to properly route requests quickly. More detail for the move can be found by clicking the link in the email, but for this release you must have Admin or Operator permissions for the relevant Move Center to see the details in the Move Queue page.
Editing a Request Locked for Approval
Once a move request enters the advanced approval routing, it becomes "locked for approval." When the edit process begins, the request is unlocked and will need to be rerouted for approval by clicking the "Submit Request" button once more.
Move Status Tab
The Move Status tab provides a convenient dashboard where Move Admins can:
See a list of all pending, approved and rejected approval routings
See the approvers associated with an approval routing
View the date/time of the last approver notification
Re-send email notifications or cancel if revisions are required
Search for approval routings by "Request ID" or "Approver"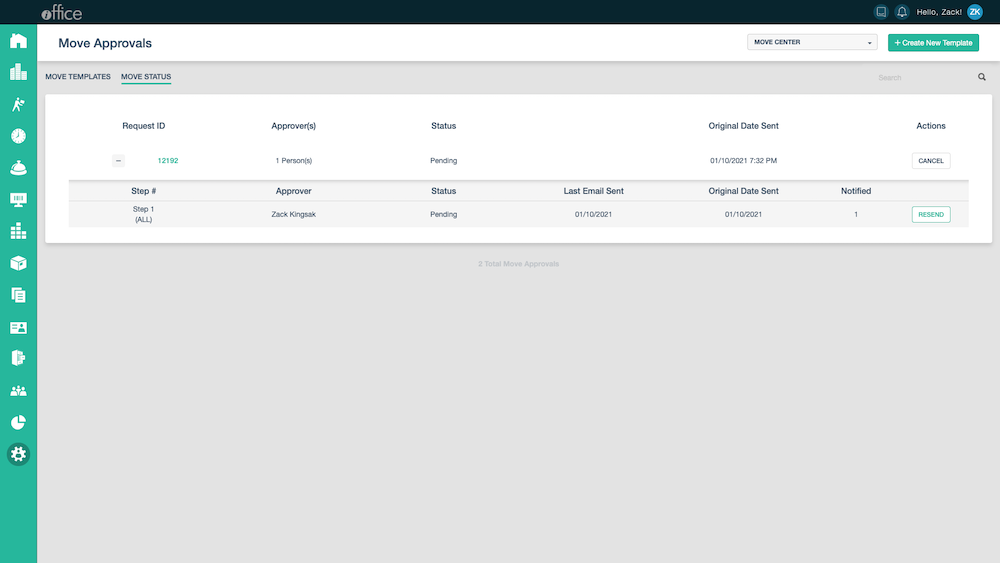 The new Advanced Move Approval Engine gives enterprise-level companies more control over how move requests are routed through their organization. If you have any questions, please call 713-526-1029 or send an email to support@iofficecorp.com.