Miscellaneous Updates for February
Last updated
Various updates have been made to multiple mobile apps this month. In the OpenSpace App, a 3D Touch option is now available on certain devices, allowing you to reserve rooms more efficiently. In addition, a new button has been added to the Asset App to allow you to add assets from the Asset Home screen. Finally, room information is now displayed on the Check-In Confirmation screen in the Mail App, allowing you to easily verify a package's delivery location.

Refer to the following sections for more detailed information on these enhancements.
New 3D Touch Option for OpenSpace
In addition to the existing 3D Touch options available in the Mail App, a new 3D Touch option is available for the OpenSpace App. In the Mail App, 3D Touch options are available for quickly checking in or scanning a package barcode, which can help you access the app and efficiently perform the necessary action for the package. In the OpenSpace App, a new "quick scan" button is now available in the 3D Touch menu, which is accessed by force pressing the app icon. This new option allows you to go directly to the Barcode Scan screen in the OpenSpace App to scan a room barcode and reserve the room.

Note: The 3D Touch feature is only available on model 6s and newer iPhone devices.

This new option combines the step of accessing the app with the first action you need to take, allow you to begin the room reservation process directly from your device's home screen.
Add Assets Directly From Asset Home Screen
A new button has been added to the Asset Home screen in the Asset App to simplify the process of adding new assets. Previously, assets could be added by clicking a button on the Asset Search screen. Now, you can click the Add New Asset button directly on the first screen accessed in the App.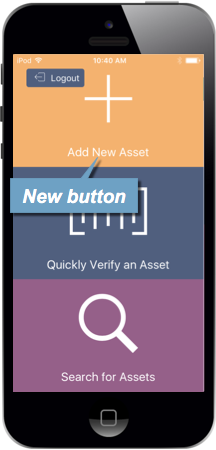 This new button allows you to begin adding a new asset with a single click, saving time when creating new asset records from your preferred mobile device.
View Room Information with Check-in Confirmation
In response to multiple requests, we have added additional room information to the Check-In Confirmation screen in the Mail App. When a new package is checked in, the room number of the package recipient displays in the To section, allowing you to quickly verify the delivery location for the package.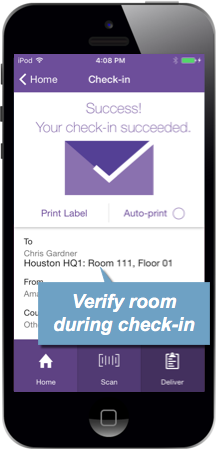 These new features are currently available to all customers using the corresponding apps. If you have any questions, please call 713-526-1029 or send an email to support@iofficecorp.com.