Navigate around the Knowledge Center
Last updated
The iOFFICE Knowledge Center is designed to be a comprehensive resource to provide you with ongoing support for your iOfiOFFICE ice solution. For each module and mobile app, we have created guides, procedures, best practices, and so on, to help new and existing users develop the skills required to efficiently perform their job functions. Refer to the sections below for information on the various pages available on our site.
Home Page
---
When you first access support.iofficecorp.com, you will see the Knowledge Center Home page. Information on this page is categorized based on product or information type to help you easily drill down to the appropriate content.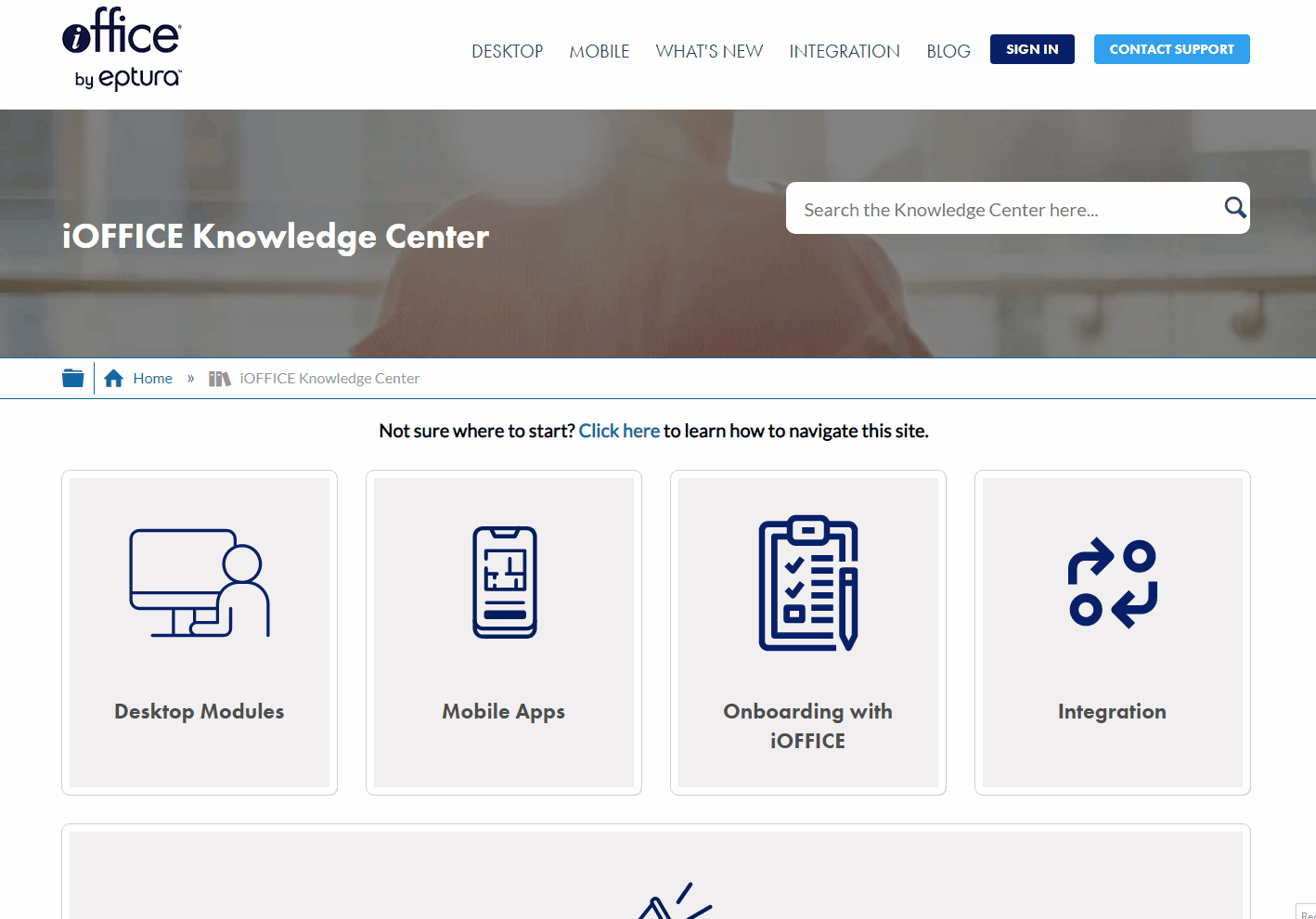 If you wan to view a history of recent changes to the iOFFICE app then click the What's New button OR if you want to learn about one of our desktop modules, then click the Desktop Modules button to access our support materials for desktop applications or click Mobile Apps button to access information about the mobile apps.
Each desktop module or mobile app has a guide specifically tailored to help you perform your job functions within iOFFICE.
Guides
---
When you select the appropriate module or mobile app, a user guide displays. Each guide contains articles to help you fully utilize the iOFFICE app, including training paths, screen overviews, tips and tricks, and so on.
The Guides contain multiple tabs to help you efficiently navigate to the necessary article. Simply click the tab title to access articles in the corresponding format. Articles can be displayed in the following formats:
Guide Contents. This tab lists articles along with a description, allowing you to easily select the appropriate topic.
Training Paths. This tab groups articles by similar tasks, allowing you to follow a specific path for training purposes. For example, you might see a path for getting started with mobile apps, or an article for operator training in the Mail module.
Featured Articles. This tab lists the top 10 articles in four categories: Most Popular, Highest Rated, Recently Updated, and Recently Added. Use this tab to quickly locate procedures for commonly used tasks.
Index. This tab lists articles based on the beginning letter of the title, allowing you to easily locate article based on action, such as Searching (under 'S') or Viewing (under 'V').
Breadcrumb Navigation
---
After you have drilled down to the article level, you can easily return to the Guide by clicking the Back button in your browser or using the breadcrumb path at the top of each page. To return to a previous category, guide, or article, click the corresponding breadcrumb.
Alternatively, you can click the Folder

icon to display a hierarchy of articles and categories, allowing you to quickly navigate to a specific location in the site. Use the Expand

icon and Collapse
icon to display or hide additional locations within the Knowledge Center.
Feedback Options
---
You can provide feedback on how we are doing in many places within the site using Yes, No, and Leave Feedback buttons located at the bottom of each article. For example, you can comment if an article was particularly useful, or if you would like to see an article added to a user guide. We appreciate your input!
The Leave Feedback button is only available when you are signed in to the Knowledge Center site.