2020 August Product Release
Last updated
Below are the highlights for the release.
Hoteling Restrictions and Workday Hours
See the latest updates to hoteling restrictions and booking in SpaceIQ:
SpaceIQ now offers hoteling restrictions, custom business hours, and more:
Hoteling Restrictions
Hoteling is a great method to improve utilization, and now you can reserve hotel booking to just a select subset of employees. Note: Workplace groups can be utilized as workplace group shifts, to help with COVID shift spacing and shift scheduling:
Hoteling Settings Options

Department Restrictions
Workplace Group Restructions
AND / OR Logic for Departments & Workplace Groups

Informs Employees of Restrictions
Visual Hoteling Improvements & Hourly Web Bookings
Hourly hotel booking has arrived on the web app. Let employees see just what they need to see when booking a hotel desk with these new booking features:
Hourly Hotel Booking on Web App
Visual Indicators of Blocked Days and Times
Employees See Space Assets when Booking
Hoteling Workday Hours
Stay aligned across your organization. Now you can set your company's regular business hours from the main settings page which will apply to hotel bookings so everyone is on the same page:
Customize Company Working Hours
All-Day Bookings Match Working Hours
Filter by Title on Employee Management Page
Manage your large employee workforce efficiently with even more filter options on the Employee Management page
Your feedback is invaluable, so let us know what you think of our new features and latest updates. Email us at support@spaceiq.com, visit our new User Feedback Portal, or reach out to your Customer Success Manager.
Social Distancing Features are Here
See the latest updates to Social Distancing Measures and Hoteling in SpaceIQ:
SpaceIQ now offers social distancing indicators, along with improved hotel desk options:
Social Distancing on Maps
As you return to work, it is important to keep safe distance rules in place to support the health and well being of your staff. We created flexible, intuitive distancing features to keep your teams operating at peak efficiency:
Distancing Rules Map View Filters
Distancing Visible on Map Edit Page
Per Floor Distancing Rules
Hotel Check-In Reminders
Just when you thought hoteling couldn't get any easier! We've eliminated the need to hunt for appointment details and check-in buttons. Employees can now check-in on the web app. We've also added various reminders, including new in-app reminders:
Web App Check-In: My Bookings
In-App Reminders of Appointments
Email Reminders with Check-In Button
Hoteling Restrictions & Reporting
Don't waste valuable space with duplicate hotel bookings. With this new feature, restrict users from accidentally booking two or more desks for the same time slot.
We also added historic hotel usage on a per-employee basis to our already powerful hotel reporting features so you can see who sat where and when. Measure and encourage hoteling adoption on a per-person basis for even greater space utilization.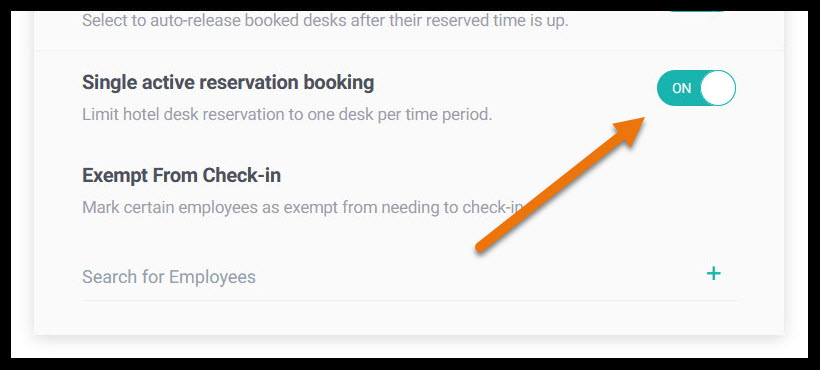 API Change Notification
A future release—scheduled in the next two weeks—will have changes to the SpaceIQ APIs. These changes do not affect any current APIs and allow an optional assignment_plan_id to be specified in the API request.