Insights Overview
Last updated
Overview
---
Insights are intended to be a guided experience where all of the information you need can be found within each report. This includes a glossary of terms that can be accessed by simply clicking on any underlined word within a report.
For reports that have not been updated, the documents below are still relevant. Expect changes as updates and improvements on Workplace Insights continue throughout the next few months.
Supported Web Browsers
---
We support the latest versions of Google Chrome, Safari, and Firefox.
Additional information is available in the TEEM Compatibility Matrix.
Insights
---
The following is just a sample of the Insight reports that are available. Most reports can be found in the Insights Library.
How Long Do Meetings Last?
Shows the average and median meeting length of meetings. It also allows you to group your percentage of meetings by length and compare your average meeting length by location.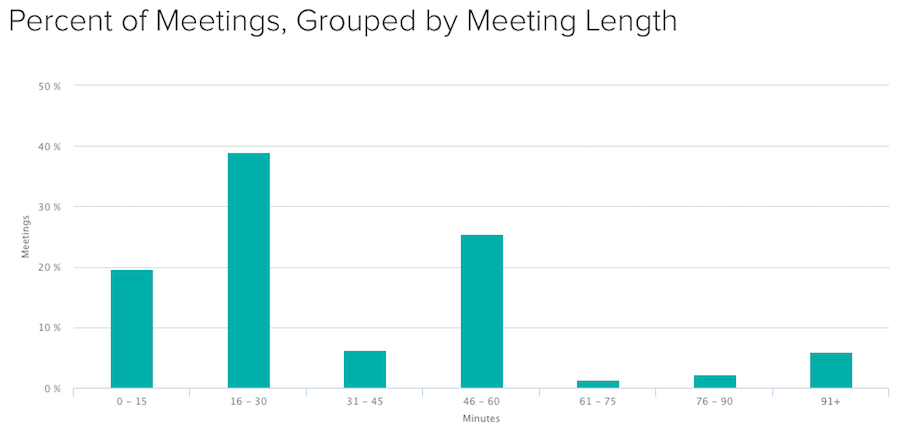 What's our typical meeting size?
Using this Insight, you can find out the average number of attendees per meeting across the board. You can also find out the total number of unique attendees, the meetings per attendee, and the change versus the prior period. Sorting average meeting sizes per location is also an option.
How far in advance are meetings scheduled?
This insight is delivered as a histogram that will provide you with an idea of how far in advance people are booking their meetings. It also includes the percentage of meetings that are planned in advance and the percentage of ad-hoc meetings
How much waste do we recapture using EventBoard displays?
Recapturing indicates the meeting hours made available when EventBoard cancels no-show meetings from room schedules. Your recaptured rate is calculated by taking the hours recaptured and dividing it by the number of hours canceled from no-show meetings. If you haven't turned on the Check-In feature for your rooms, you won't be able to recapture any no-show meeting time.
Visitor overview helps you understand what type of visitors are your most frequent as well as the quantity of each type of visitor.
Zombie Action Logs include recurring meetings that have failed to check in two or more consecutive times. These meetings are scheduled in rooms where the zombie action feature has been enabled. Your threshold settings determine when a cancellation and deletion action takes place.

Technology (Amenities) overview shows which amenities are most used and which have the most problems reported through our Work Requests feature. These reports can help show what technologies are most successful in your organization and which are the greatest burden on your facilities and tech teams.