How to Choose the Right Barcode
Last updated
Barcodes are great, but which one is best for you?
Barcoding your assets can be a major improvement for not only your maintenance team and technicians but also your operators, management team, and staff in general. Barcodes allow employees to quickly determine what equipment they want to create a work order for, run a work order history report on, or see what open work orders are currently associated to that equipment. Overall, barcoding gives a company more visibility into their assets. But the question remains, What barcode is right for you and your business?
When deciding on barcodes, there a few key factors to consider:
Let's look at each in more detail.
Code Type
Hippo CMMS currently supports most of the recognized barcode types:
Code 39
Code 93
Code 128
EAN-8
EAN-13
QR
While all these code types are currently supported by Hippo CMMS, we recommend either Code 128 or QR types as they provide quick readability and a low rate of failure with our mobile version. These also happen to be two of the most common types of barcodes, which means you can easily source them through an outside vendor or in-house production.
Material
In general, barcodes come in two types, paper and synthetic, and when deciding between the two, the first consideration is the application environment. Will these be used in an office setting away from harsh conditions or in a manufacturing plant where they'll be exposed to high temperatures and greasy or rough surfaces?
Paper labels are the most inexpensive and commonly used material for general applications, and you can easily make them in-house using your everyday label maker. They're typically used for general inventory in the most non-specific environments (office spaces, warehouses, etc.), but tend to be less durable over time.
Synthetic labels, while more expensive, offer the benefit of both maximum durability and flexibility. Synthetic labels are commonly used in the harshest of environments because they are resistant to high temperatures, chemical exposure, scratching, and water and oil. Because there are a multitude of synthetic types (polyester, polypropylene, vinyl, etc.), and each offers its own benefits, they should be carefully considered before making a final decision.
Size
The size of a barcode label can prove to be a major factor. Hippo CMMS currently recommends using 2" x 1" labels because it provides quick readability not only with our mobile version but also allows employees to quickly identify the number on an asset. This however may not always be a viable option when barcoding smaller assets. You always need to take the size of the assets into consideration when choosing the right size.
What Hippo has to offer
While this may seem like a lot to consider prior to barcoding your assets, Hippo is always there to help. We have experts on hand to help determine what best meets your organization's needs. Here is a visual of the barcodes we provide to our customers: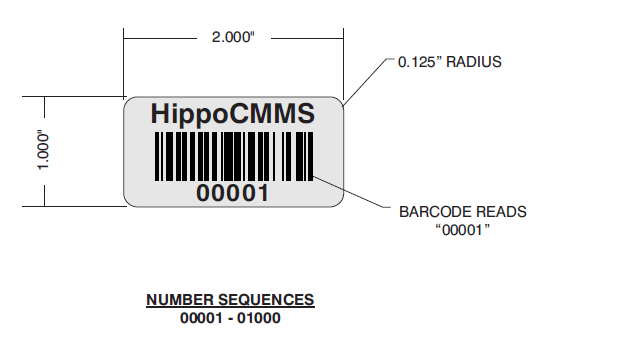 The common specs Hippo CMMS uses are as follows:
Thickness: 0.003'' MATTE FINISH
Material: PHOTO-SENSITIVE ALUMINUM
Adhesive: 3M 9472 MP PSA
You can always contact your Customer Success Manager or the Hippo Support team to discuss how you can order these barcodes and how Hippo's team can help you get started with barcoding.