Hippo Support
Last updated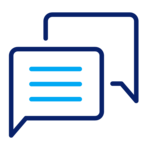 This guide shows you how to contact the Hippo Support team through our Conversation Window, how to access our guides and view our videos.
Hippo CMMS makes it easy to get the answers you are looking for!
While you are logged into Hippo look for the Conversation Window icon in the top right corner of the screen.
Click on the icon to contact all Hippo Support-related information.
Notice a Conversation Window opens to the right side of your screen.
Start entering your questions in the empty type field, at the bottom of the window.
Select from the multiple options to help you further, look at suggested guides or videos, or connect with our fantastic support team.
Hit the close button "x" below the pop-up window to close the screen, but revisit up at any time.
We highly suggest you create your own Hippo support account, so that you can keep track of each conversation all in one place.
Learn more on how to create your own Hippo CMMS Support Account in the How to use this Support Portal article and then you can access the Hippo CMMS Support Portal.