Hippo CMMS Mobile App - Manage Work Order Requests
Last updated
When you first log into the mobile app, you automatically arrive at the Work Order screen which lists any ticket that is Overdue.
Click on the menu icon in the top right corner.
Once the screen opens, tap on the "Requests" panel.
Note: The number next to "Requests" indicates how many have been submitted and need to be managed.
This opens the list of Requests and details for each. Tap on the Request that you wish to manage.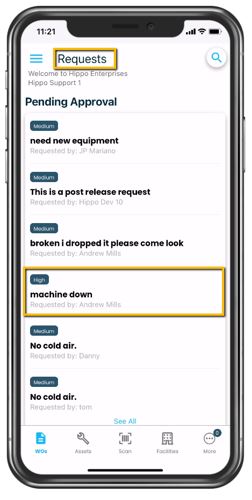 Once a Request is selected, you can either "Approve" or "Reject" it. Select the button at the bottom of the page.
Reject- a new window opens.
Add a message about why the Request is being rejected.
Once you hit Send, the Requester automatically receives a follow-up email with your message.
Approve - the "Create a Work Order" form opens.
All the request details transfer to the work order form.
Add and edit details, such as giving the work order a name or adding a Resource.
Do not forget to hit "Submit" in the top-right corner.
You have now created a Demand work order.
The Requester gets a notification that it was approved.