Equipment Downtime Process
Last updated
This guide shows you the best practice when reporting equipment down
There are a few suggested steps when reporting equipment downtime, to get maximum information.
Steps:
First, start a Demand work order to document that a machine is down.
While submitting the work order, click on the equipment name to open the detail screen.

Click on the Report Down button at the bottom of the detail screen.

Add the date and time details, then hit Report Down and the window disappears.

Note: the equipment details screen has a notice.

Close the detail screen by clicking on the "X" in the top right corner, and finish all the remaining details to the Demand Work Order.
The Resource can now complete the Demand Work Order as usual.
Note: Any asset that is reported down has an exclamation icon next to the asset on the work order. Hover your cursor over it to see date details.
Note: The Resource can add the reason for downtime, and the description of the repair in the Comments section of the Demand Work Order.
Before the work order is actually closed, a window appears for the Resource to optionally report the equipment up again.

Manually enter the downtime or use the time calculated by Hippo (Use this). Keep in mind to not report it up without entering downtime details.
Hit Report Up.

Here is a short GIF of this process (Right-click on it > Open Image in new tab to view it on full screen).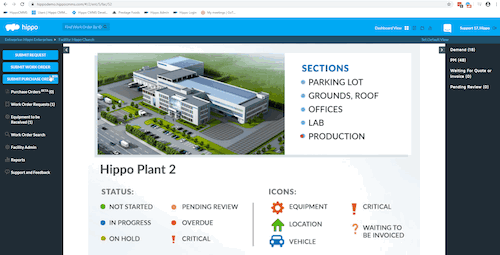 Click here to learn how to run a report on the downtime.